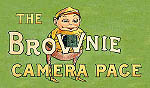 ---
Six-20 Portrait Brownie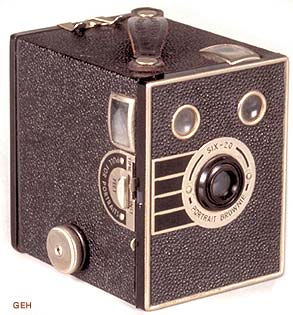 Type: Box rollfilm
Introduced: Feb 1936
Discontinued: 1940
Film size: 620
Picture size: 2 1/4 X 3 1/4"
Manufactured: UK
Lens: Meniscus with a portrait lens on pull-out slide
Shutter: Eastman Rotary
Numbers made: ?
Original price: ?
Description:
The Six-20 Portrait Brownie Camera is a sturdy, well-made model with a leatherette covered metal body. It boasted nickel plated trim and an attractively designed band of horizontal lines to the left of camera lens. The two brilliant finders helped with positioning the image. The main feature of this camera is the pull-out tab which moves another lens into place for close-up portraits...and it works quite well!

If the "Portrait Brownie" camera you have does not look like the Six-20 Portrait Brownie Camera on this page and has Portrait Brownie No2 printed on the front of the camera, then try this page.