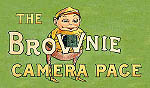 ---
No.2 Portrait Brownie
Portrait Brownie No2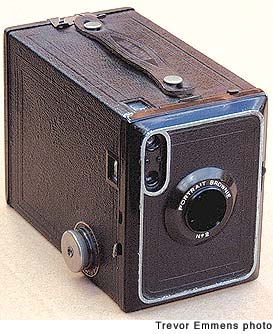 Type: Box rollfilm
Introduced: Feb 1929
Discontinued: 1935
Film size: 120
Picture size: 2 1/4 X 3 1/4"
Manufactured: UK
Lens: Meniscus with a portrait lens
Shutter: Eastman Rotary
Numbers made: ?
Original price: ?
Description:
The No.2 Portrait Brownie Camera, or Portrait Brownie No2 Camera, was the first camera to come out of the then new Kodak camera factory in Harrow, UK. This well-made metal body camera has unique angled edges to front panel with a bright line border which also surrounds the finder window. Two brilliant finders. The two brilliant finders helped with positioning the image. The main feature of this camera is the pull-out tab which moves another lens into place for close-up portraits...and it works very well!

Variations:
Different Color Finishes:
1929-35: Grey, Claret, Brown, Red
1929-34: Green
1929-33: Blue, Black
Nov 1930: Black Modernist Covering with a slight relief and a wax-like feel was a special line made for Christmas sale in very limited numbers only.

If the "Portrait Brownie" camera you have does not look like the No.2 Portrait Brownie Camera on this page and has Six-20 Portrait Brownie printed on the front of the camera, then try this page.