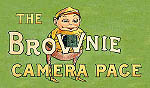 ---
Six-20 Brownie Senior
Type: Box rollfilm
Introduced: June 1939
Discontinued: 1940
Film size: 620
Picture size: 2 1/4" X 3 1/4"
Manufactured: UK
Lens: Meniscus with a portrait lens
Shutter: Eastman rotary
Numbers made: ?
Original price: ?
Description:
This camera has been manufactured with a very sturdy metal body. It has two brilliant finders and a toggle for a time or "instant" exposure. It features a slide-in portrait lens(*see Variations below), two tripod screw holes for vertical or horizontal and has a very attractive art deco faceplate.

Variations:
This camera was available with a choice of portrait lenses, either 3-4ft or 4-6ft. It would be interesting to know which model was more popular.

Fun Facts:
This camera is identical to the Six-20 Portrait Brownie camera. Why this was manufactured at all, especially during the last year of the Six-20 Portrait Brownie camera, is a mystery to me. Normally included as a feature with UK made cameras like this one is an aperture slide with 2 or 3 choices, which this camera does not have.