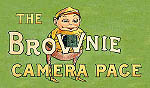 ---
home - The Brownie Camera Page Store
The Brownie Camera Page Store
Looking for a good book on Brownie Cameras or a t-shirt to express just how you feel? Browse below and I'm sure you'll find what you looking for!
The t-shirt, coffee mugs, magnets...etc are powered by CafePress, the leader of high-quality online merchandise. I photographed and designed each and every item and I own many of them myself. I am amazed at the quality, and you will be too!
The book section below is powered by safe and secure Amazon, the leading online marketplace.
The Brownie Camera Page, costing more and more every year to maintain, receives a small percentage of all sales which is used to keep the website up and going.

Any sales from here cost you nothing extra...THANKS FOR SHOPPING!