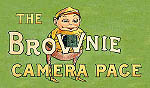 ---
home - How to Determine a Manufacture Date For A Kodak Brownie Camera
How to Determine a Manufacture Date For A Kodak Brownie Camera
There are a few ways to determine your camera's manufacture date. Sometimes the best date you can get is within a few years, sometimes within a few months and sometimes the exact month!

PATENT DATES
To start with, don't be fooled by any patent dates that the camera has stamped in it. These dates can be useful to determine that a camera was not made before that date, however, the patent date(s) is for the particular piece it is stamped on. This means that if, say, a roll holder has a 1953 patent date on it that the date refers to when the film holder was patented. The roll holder then could be in a camera which was manufactured in 1956.
Another good use for these dates is to use them when looking through this website at a camera information page. For instance, if a camera was made from 1922-1932 and a piece has a patent date of 1930 then it's a good bet that the camera was made between 1930 and 1933.
One downside to all of this is that a piece could have been a repair to the camera, or replaced for some reason, making this way of determining the manufacture date not exact.

USING THE CAMERA LISTINGS ON THIS WEBSITE
To find information, not only the manufacture date, you can use the camera listings on this website. This information will give, at the least, the manufacture start and stop dates. Further, many cameras went through some changes in their lifetime without changing the name. On the camera pages these differences are listed with dates. This means that, say, if a camera was made from 1940-1950 and the winding "key" was changed from a bar type to a knob type in 1943 and your camera has the "bar" type then you know your camera was manufactured before 1943. Sometimes there are a quite a few changes that occured to a camera so that you can determine even better what the manufacture date is by looking at your camera and seeing what features it has and if these features are listed.


Search For A Specific Camera




USING "C A M E R O S I T Y" FOR EXACT YEAR AND MONTH
This method of determining a manufacture date works with some cameras and, for me, is the most fun. There are alot of exceptions but many of the popular cameras made in the 1950's and 60's include this "hidden" code.
The code can be stamped or etched in a variety of places. Most of my cameras have it either inside the camera stampedon the film holder, as illustrated below, or etched around the lens, looking more like a serial number.

| | | | | | | | | | |
| --- | --- | --- | --- | --- | --- | --- | --- | --- | --- |
| C | A | M | E | R | O | S | I | T | Y |
| 1 | 2 | 3 | 4 | 5 | 6 | 7 | 8 | 9 | 0 |
Example #1....around the lens of some cameras it will have a code etched in it like: RC98921. Using the "RC" in relation to the numbers in the table above "R"=5 and "C"=1 meaning that this camera was made in 1951.
Example #2....Inside the cameras pictured below is stamped a 4 letter code. Using the Brownie Hawleye Flash Model on the left, the code is: "YRRT. Translating the letters into numbers this code gives us: "0559", or 05/59.....meaning that this camera was manufactured in
*
May of 1959.
Using the code from the Brownie Holiday Flash Camera, on the right, we find out that this camera was made in
*
April, 1955....."Y"=0, "E"=4, "R"=5 and "R"=5.
| | | | | | | | | | |
| --- | --- | --- | --- | --- | --- | --- | --- | --- | --- |
| C | A | M | E | R | O | S | I | T | Y |
| 1 | 2 | 3 | 4 | 5 | 6 | 7 | 8 | 9 | 0 |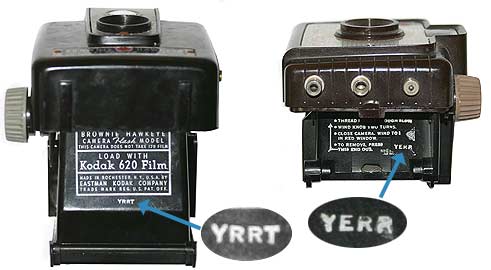 *CONFUSION!

Some
date codes refer to a month "13", as in code "CMIC". Kodak used a 13-month "lunar", or "Cotsworth", calendar for
some
of these codes, so it may not be possible to pinpoint exactly which month a camera was manufactured, just which four-week period.
In addition, some Brazilian Kodaks have what appears to be a "camerosity" code, though some examples don't quite adhere to "C A M E R O S I T Y".
There are alot of cameras that did not use this type of date coding....too many to go into here. If you find the codes on your camera that are mentioned here it's a good bet that the dates arrived at using this method are about as accurate a date as possible.