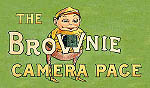 ---
home - Send Questions, Comments, and Information
Questions, Comments, and Information
Spammers are stealing my form email so I've been forced to shut it down for a short period of time.

If you need a question answered please send your email to me:
chuck"AT"brownie-camera.com
Be sure to include "Brownie Camera" in the title or subject line.
I'm sorry for the inconvenience.

*Please note: I usually answer Brownie Camera Page email on the weekends.