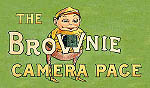 ---
home - Send Questions, Comments, and Information
Questions, Comments, and Information
If you have a question or comment please fill in the form below
and sent it to me.

If you have information that will add to the knowledgebase of The Brownie Camera Page, please send it along!

It's important to include your full email address or I will not be able
to send a response back to you.

*Please note: I usually answer Brownie Camera Page email on the weekends.