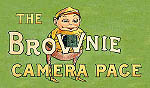 ---
Six-20 Folding Brownie, Second Model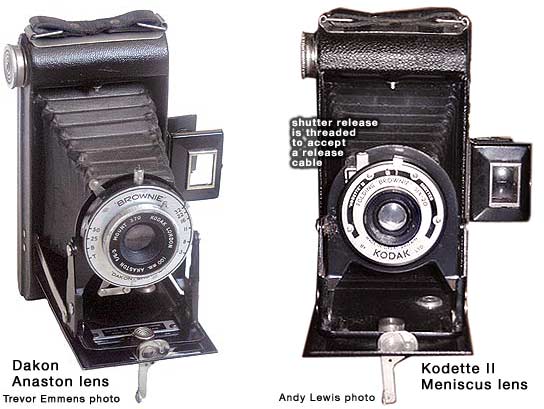 Type: Self-erecting folding rollfim
Introduced: 1948
Discontinued: 1954
Film size: 620
Picture size: 2 1/4 X 3 1/4"
Manufactured: UK
Lenses: Meniscus fixed focus or Anaston f/6.3, 100mm focusing
Shutters: Kodette II (Meniscus lens and shutter release cable capable) or Dakon (Anaston lens) with bayonet flash contacts Numbers made: Well over 300,000 Original price: ?
Description:
All variations of this nice folding Brownie camera feature a morocco grained imitaion leather covering and folding optical frame finder.

Variations:
Except for the optical frame finder, the Kodette II lens model is essentially the same as the pre-war version named the Six-20 Folding Brownie.

Fun Facts:
This camera could have been released under two different names. It was being manufactured with different lenses, one Meniscus and one Dakon, with significant differences. I'm sometimes surprised at details like this and that Kodak would decide to produce virtually two different cameras with the same name at the same time.