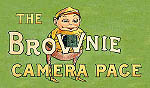 ---
Six-20 Brownie Model E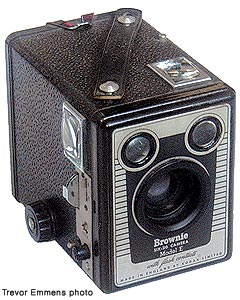 Type: Box rollfilm
Introduced: 1947
Discontinued: 1957
Film size: 620
Picture size: 2 1/4 X 3 1/4"
Manufactured: UK
Lens: Meniscus f/11, 100mm, with a slide-in portrait lens
Shutter: Single blade
Numbers made: ?
Original price: ?
Description:
This well made Brownie featured an imitation pigskin covered metal body with two brilliant view-finders. This camera has a very useful built-in sliding portrait lens for close-ups and a yellow filter for use with black and white film. It has a 2-pin flash contact for flash pictures, tripod sockets for horizintal and vertical use, and a shutter safety catch that helps eliminate double exposures. This camera also features a cable release socket which is uncommon on Brownie cameras.

Variations:
The first production of this camera, from 1947 until 1953, had a vertically striped front front, a metal winding knob, and a metal shutter release release button.
From 1953-57 the camera changed to a horizontally striped design faceplate, plastic winding knob, and a plastic shutter release button.

Fun Facts:
The Six-20 Brownie Model E is a higher-quality workhorse of a camera from a great series produced in the UK for 20 years, starting in 1937. These box cameras were made to last using heavy-duty sheetmetal. I come across these cameras often at flea markets and yard sales, and rarely does one not work!