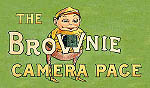 ---
No.1 Brownie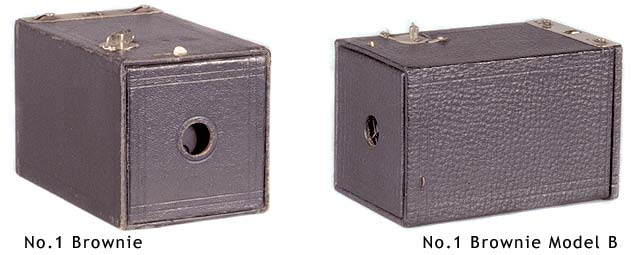 Type: Box rollfilm
Introduced: Oct 1901
Discontinued: 1916
Film size: 117
Picture size: 2 1/4 X 2 1/4"
Manufactured: US
Lens: Meniscus
Shutter: Rotary
Numbers made: 522,000
Original price: $1.00
Description:
The No.1 Brownie Camera is identical to the "improved version" of the Brownie camera. The name was changed to No.1 Brownie after the introduction of the larger No.2 Brownie. The No.1 Brownie is a leatherette covered card box with a wooden film carrier.

Variations:
From October 1901-April 1904 this model Brownie had a smooth leathercloth covering. After that, until it was discontinued in 1916, the covering was changed to a more grained leatherette covering and the wooden film insert was painted black instead of the original shellac finish. At this same time in April, 1904, the name was changed to No.1 Brownie Model B with approximately 367,000 cameras produced.

Fun Facts:
According to the 1902 EKC catalogue, a 6 exposure roll of film cost $.15, accessory viewfinder $.25, carrying case $.50, developing and printing outfit $.75, photofinishing price $.40. The Brownie character box was used for this camera from July 1901 until 1907.